Worldwide Car Shipping by RoRo (Roll on Roll off) from UK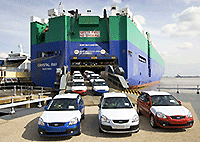 Car Shipping by RoRo (Roll On Roll Off),
is a method of sea shipping refers to vessels and vehicle carriers that are designed to carry wheeled cargo such as cars, trucks, trailer trucks, trailers or railroad vehicles that are driven on and off the ship on their own wheels. Most Cars are shippied using this method as it is the most convenient and cost effective method of getting your Car to your country.
This is in contrast to Lift On/Lift Off (LOLO or Lo-Lo) Shipping which refers to car carriers and vessels which use a crane to load and unload cargo.RORO vessels have built-in ramps which allow the cargo to be efficiently "Rolled On" and "Rolled Off" the vessel at the port.  
It is important to note that you are usually not allowed to ship personal effects using this method, but spare tire and factory fitted accessories are.